​Arlo Guthrie's Alice's Restaurant 50th Anniversary Tour
| | | | |
| --- | --- | --- | --- |
| Jan 27, 2015 | 7:00 PM | | | Sold Out |
More info


​Capitol Steps
| | | | |
| --- | --- | --- | --- |
| Jan 30, 2015 | 6:00 PM | | | Sold Out |
| Jan 30, 2015 | 8:30 PM | | | Sold Out |
More info

The Doo Wop Project
| | | | |
| --- | --- | --- | --- |
| Feb 2, 2015 | 7:00 PM | | | Sold Out |
More info

The Best of Broadway presents "BROADWAY SHOWSTOPPERS!"
More info
See full schedule
E-News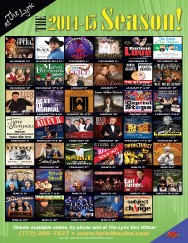 Download 2014 2015 Season Brochure
Download the 2014-15 Brochure PDF here.

Download PDF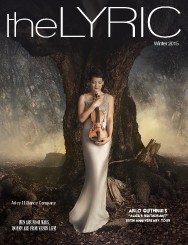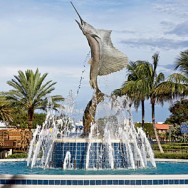 Visit Stuart
We know you Love the Lyric! Fall in love with Historic Downtown Stuart. Click Here.

Lyric Theatre
Arts & Entertainment in Stuart, Florida
The Lyric Theatre has been the center for arts and entertainment on the Treasure Coast since it opened its doors in 1926. This historic, fully renovated showplace is an intimate performance hall with 500 seats and whisper-perfect acoustics. The Lyric stage hosts a year-round schedule of world-class performances from national and internationally renowned artists. It is also a venue for local productions, and civic and charitable events.

For concerts, comedy, musicals, drama, dance, family fun -- and much more! -- come to the Lyric!

2014 2015 Season Brochure
News
Alvin Ailey's Streams is an abstract exploration of bodies in space, danced to a percussion score by Miloslav Kabelac. The movement is a highly...
read more
La Diva Tenors, coming to The Lyric, Valentines Day 2015!
read more
Regis Philbin shares some stories and talks about his new book "How I Got This Way."
read more
Anne Akiko Meyers, one of the world's premier concert violinists, makes her Lyric debut playing the world's most sought after violin. After fierce...
read more
The Time Jumpers take the stage to perform "Someone Had To Teach You" live at the Grand Ole Opry as part of GAC's Noteworthy at the Opry series....
read more